From Taboo To Typical: Global Cannabis Comes Of Age
by Shane MacGuill and Spiros Malandrakis
As global cannabis industry leaders gathered at the International Cannabis Business Conference in Berlin in late August our overarching reflection was of an industry that is – if not maturing – entering the end of its beginning as a legitimate mainstream commercial force. Ultimately, the nature and potency of that force will be determined as much by the industry's collective ability to address consumer needs as by the intricacies of compliance and complexities of operations.
At a high level, there is no question that this is an industry on the rise, projected by Euromonitor to reach a global legal value of around USD100 billion across its adult-use, medical and CBD pillars within the next half-decade. US adult-use undoubtedly drives this growth albeit there is a haze of uncertainty there which is only partially lifting. However, regardless of the evolution of reform at a federal level, it is all but inevitable that in the near future tens of millions of more Americans will gain legal access to the full spectrum of modern cannabis products.
And globally, the steady rolling wave of liberalisation continues, propelled by the increased acceptance and tacit activism of the general public. In our recent cannabis survey, more than half of all respondents expressed support for the positive economic argument in favour of full cannabis legalisation, believing that commercialisation would be economically beneficial. Even more strikingly, two-thirds of the sample (consisting of a balance of all kinds of relationships with cannabis, and none) expect adult-use of cannabis to be legalised in their country within the next decade.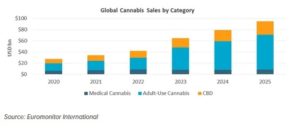 Expectation. Benefit. Belief. This is clearly no longer the language of taboo, of hope against the odds. However, for the industry to truly graduate into mainstream fmcg status it will need to be responsive to the drivers of its emerging consumer base.
It will need to be adventurous with the formats and brand purposes it is elevating to the market. And ensuring that cannabinoid products deliver on their intrinsic promise of offerings that are tailored to our individual goals and are improving our lives – sometimes in small, sometimes in large – ways on a daily basis.
The industry needs to embed sustainability and social justice at its core, and into its brand propositions. Not just because this is the right thing to do but because in doing so it will differentiate itself with a consumer population increasingly concerned with the wider impact of its consumption.
Its pricing strategies will also need to be refined: Unpretentious affordability and a competitive price point will be essential. On the other hand, bling retains a certain degree of penetration to this day but such historic approaches towards aspirational consumption are increasingly transitioning towards a focus on authenticity, craftmanship and artisanal credentials instead.
Nevertheless, it is not merely about the efficacy or competitive intoxicating attributes new formats will bring to the table. Creating new rituals or shedding fresh light on established ones will cement ever-elusive brand equity. While beverages and edibles have monopolised headlines under the Cannabis 2.0 umbrella of launches, the answer can sometimes be simpler. For example, dogwalkers are cannabis pre-rolls "inspired by the simple pleasure of leisurely strolls with one's dog".
Celebrity endorsements, tie-ins and collaborations have also been an instrumental part of key branding initiatives across fmcg industries. However celebrity sparkle is not a panacea – shared values, direct involvement and a long-term strategic symbiosis will separate sustainable business propositions from short-lived gimmicks
On the retailing front, utilitarian and stoner-chic stereotypes of the Dutch coffeeshop paradigm belong to the 1990s and do not reflect the evolution and outreach of the industry in 2021. As the industry matures, clear and differentiated propositions that aspire to facilitate retailing experiences focusing on specific demographics will be the winners over more "me too" Apple store copycats.
Beyond retailing, there can be no overstating the importance of on-trade venues and occasions in providing momentum to normalisation, establishing new consumption rituals and occasions and, ultimately, cementing the fledgling cannabis industry as a key competitor for the alcoholic drinks industry.
Tailoring brand propositions to attract specific focus demographics will be key. From identifying the cannacurious cohort to expand penetration and reach to focusing on seasoned consumers to allow for connoisseurship and premiumisation to add value, diligent segmentation will be another sign of the industry's transition into mature fmcg territory. Euromonitor International's surveys are also shedding light into key perceptions, concerns and patterns. For example, 79% of cannabis consumers in US legal states consider strength to be an important product attribute followed by price (70%) and strain (66%)- a fact that highlights the still simplistic and embryonic nature of buying behaviours, a situation that is in many ways akin to alcohol consumers choosing brands purely based on abv content . But on the CBD front education also remains essential with 43% of global respondents saying that they do not see a clear need to use CBD.
Beyond the haze of hype and dramatic share price fluctuations, the cannabis industry is shifting into the realms of fmcg through the adoption of innovative formats, design sophistication and evolving language and semiotics. As it sheds its mantle of illicit associations, branding through lifestyle cues and positioning, retailing strategy and demographic breakdowns will shape its future and its transition from novelty to an industry that has come of age.
For more insights see our cannabis research at: https://www.euromonitor.com/cannabis
In conjunction with this article, make sure to also check out this link to download the related presentation slides: https://bit.ly/2VRrvTu
This article first appeared on Euromonitor.com and is syndicated with special permission